New Patients at West Coast Back + Body Centre
Welcome to Our Practice!
From the moment you enter West Coast Back + Body Centre, we hope you'll feel at home with us. Each member of our team aims to go above and beyond to help you feel relaxed and comfortable in our care—our goal is to leave you feeling better when you walk out than you did upon entering.
Your First Visit
First we'll ask you to fill out some paperwork and tell us a bit about yourself. After you're done, we'll take you back to meet with your chiropractor where your appointment will begin.
During the first visit, we have patients answer an extensive health questionnaire so that we can get the best look at your health and what's really going on inside your body. We'll listen to your concerns and goals, and give you the chance to ask us any questions that you might have. We'll end this appointment with a chiropractic adjustment if we believe you're a candidate for care.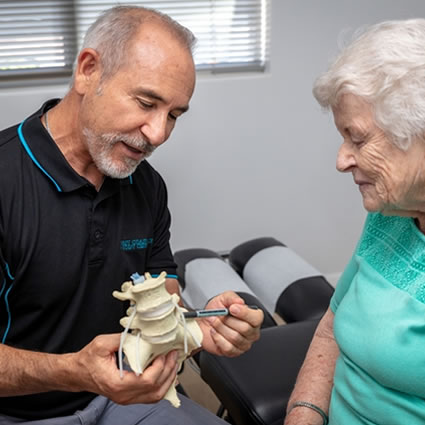 Your Second Visit
Your second visit will be scheduled at the end of your first appointment, typically for a few days later. When you come back, we'll go over your report of findings with you—an in-depth analysis of what our doctors found and how we think we can help. We'll recommend the best therapy for you, which may include a combination of chiropractic adjustments, stretches, exercises and more. If you'd like to continue with your care, we'll move forward with another adjustment at this time.
Remember, we'll never force care on you—the choice to visit us and your frequency is entirely up to you. Our recommendations are simply what we feel will benefit you most—we always look out for our patients' best interest.
Nervous? Don't Be
We welcome nervous patients into our care or those who may have had negative experiences with chiropractors in the past. We love helping patients relax and receive the care that their body needs—most of the time, a nervous patient is no longer nervous after just one appointment with us.
Get Started Today
We'd love to meet you and learn about your natural health goals. To get started today, contact us to book your first appointment.
CONTACT US
---
New Patients at West Coast Back + Body Centre | (08) 9534 9399