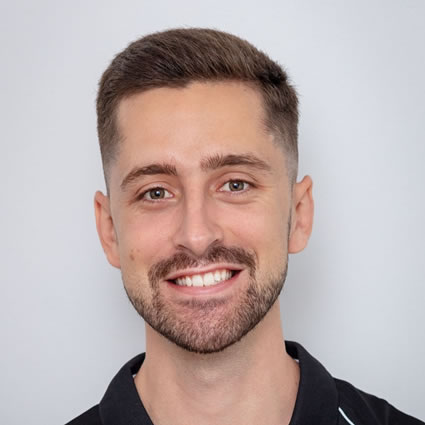 Dr Bradley Dalton (Chiropractor)
A Little Bit About Dr Dalton
Dr Dalton grew up in England and moved over to Australia with his family when he was just 10 years old. Growing up as a sporty kid, Dr Dalton gets the upmost enjoyment playing soccer and rarely misses watching his team play which is Tottenham Hotspurs. He also loves getting out and about on the golf course with his mates when he gets the opportunity. Other than being an avid sporting fan, you will find him spending time with his partner, friends and his family.
Chiropractic Inspired
Ever since I was a young kid and during my schooling years, I always knew I wanted to have a role in the health care system. It wasn't until my step dad went and saw a chiropractor for his lower back pain that I realised how rewarding it was for both the patient and practitioner who are trying to achieve the same goal through a natural holistic approach to care. That goal for my step dad was not just to be pain free but to maintain optimum health and to maintain a healthy functioning spine and for that reason alone I was chiropractic inspired.
Here I am now, after completing my studies at Murdoch University, it is now my turn as a practitioner to emulate and treat every patient who walks into my office with the same approach so that one day, I can help achieve your desired goal and help your body function to the best of its ability pain-free with optimum health and hopefully make you "chiropractic inspired ".
EXPLORE OUR SERVICES

Training/Qualifications
Dr Dalton is trained in performing Diversified and Thompson technique and utilises a variety of other techniques that are suited to each patient's needs. This includes chiropractic adjustments, mobilisations, soft tissue therapy, dry needling and exercise prescription that focuses on mobility and stability work.
He is registered with the Chiropractic Board of Australia through the Australian Health Practitioner Regulations Agency (AHPRA).
Get Started Today
Thank you for visiting our site. I look forward to meeting you in person and hope to help you become an even better you! Contact us today.
---
Dr Bradley Dalton | (08) 9534 9399