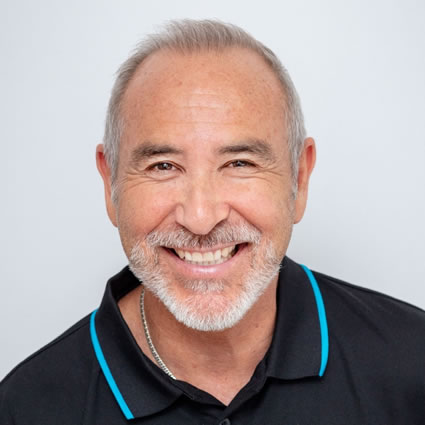 Dr Orlando Nieves (Chiropractor)
Getting Sidelined by Injury
An ankle injury from a cycling accident caused Dr Orlando to visit a medical doctor and physiotherapist. They told him it was a strain or sprain that would eventually heal. He kept having problems, however, and at just 18 years old, couldn't resign himself to a lifetime of pain. One of Dr Orlando's cousins was seeing a chiropractor to get help with her back issues. He tagged along on his cousin's appointment hoping to find a solution to his injury.
Feeling Skeptical? Dr Nieves Was Once, Too
Prior to this visit, Dr Orlando had been unable to put his full weight on his foot, plagued by a constant ache. The chiropractor looked at the ankle and performed an adjustment. "Instantly, it felt like the blood flow returned to my foot. I was pain-free from then on." He saw the chiropractor a couple of more visits, feeling skeptical about whether the results would last, but continued learning more. "It was different than medicine, which is compartmentalised with various specialists for each part of the body. One medical doctor alone can't connect the dots."
Returning to the Natural Healing Path
Dr Orlando completed a Bachelor of Science in Kinesiology at the University of California-Los Angeles. There, he learned a great deal about the human body and movement. He then was accepted into the U.S. Army's helicopter flight program. One of his duties was to develop an exercise program for his company to keep them "fighting fit" – something he was well-equipped to do given his background.
During his time in the service at Fort Ord in Monterey Bay, California, he found himself becoming more and more interested in the physiology of the body. After serving his country for seven years in the Army, he returned to school, attending the Southern California University of Health Science to complete his Doctor of Chiropractic.
Since then, Dr Orlando has completed a year of postgraduate education in sports injury and rehabilitation, earning a Certified Chiropractic Sports Practitioner qualification. He's also completed the International Certified Sports Practitioner (ICSSP) post graduate programme through the International Federation of Sports Chiropractic (FICS). Dr Orlando is continuing his certification through The Institute for Function Medicine.
Additionally, Dr Orlando is registered with the Chiropractic Board of Australia through the Australian Health Practitioner Regulation Agency. He's a member of:
The Chiropractic Association of Australia (CAA)
The Federation International de Chiropractique Sportive (FICS)
The Sports Chiropractic Australia (SCA)
Australian Spinal Research Foundation
Staying Busy and Keeping Healthy
Dr Orlando stays busy with his four children when he's not in the practice. He's involved in all of their activities, ranging from dancing to soccer and baseball. To advance his own health, Dr Orlando watches his diet, gets an ample amount of sleep, exercises four days a week and receives regular chiropractic care.
Become a Patient
Let's partner together on your journey to health."
Did you know that Dr Orlando offers complementary spinal screenings? Contact our friendly, helpful team today to find out more!
---
Dr. Orlando Nieves | (08) 9534 9399