Dr David Brown (Chiropractor)
Discovering Chiropractic at an Early Age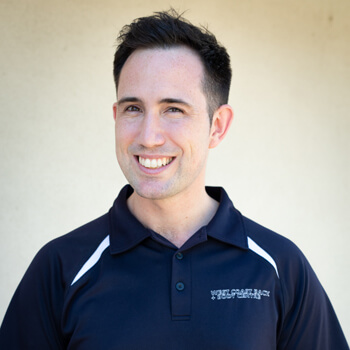 As a 13 year old with chronic low back pain I came to realise the power of chiropractic care at an early age. I was astounded that the pain and sleepless nights I had put up with for so long could be targeted in such a direct and immediate way.
I put away the pill bottles, which I used to mask my symptoms and embraced the chiropractic lifestyle without ever looking back.
I learned that being healthy was not the same as simply being pain-free. For the past 13 years I have enjoyed the benefits of a well-functioning spine, a strong immune system and a healthy lifestyle.
It was a natural choice for me to pursue the Chiropractic profession.
After completing my studies at Murdoch University in 2013, it is now my passion to share this lifestyle with every person that I can. It is very fulfilling to guide the people I meet through episodes of pain, but my proudest moments are when I see patients taking control of their health to not only feel better, but live better.
I have had the opportunity to volunteer through various outreach programs and events, included St Pat's Community Support Centre, and Ottey Family Centre.
Healthy Living
Growing up in coastal Albany, Dr Brown has always led an active and healthy lifestyle. He is an avid beach goer and enjoys surfing and beach volleyball as well as cycling and basketball.
A well balanced and nutritious diet is also an important aspect of his life. He believes a healthy lifestyle wouldn't be complete without regular adjustment, and continues his care as a chiropractic patient.
Licensing
Dr Brown is registered with the Chiropractic Board of Australia through the Australian Health Practitioner Regulations Agency (AHPRA) and has been a member of the Chiropractic Association of Australia (CAA) from his time as a student.
Thank you for visiting our site. I look forward to meeting you in person and hope to help you become an even better you!
Become a Patient
Did you know that Dr Brown offers complementary spinal screenings? Contact our friendly, helpful team today to find out more!

Dr David Brown | (08) 9534 9399